Playdome Photo Gallery
Here are some photos, notes and links related to playdomes. Send me your own photos - I want them ALL!
---
Curt Flowers' Original: Built in 1972, at a daycare center on the campus of what was known then as Sangamon State University. The photo is from the Illinois State Register, Springfield, Illinois, Tuesday, November 7, 1972, page 13.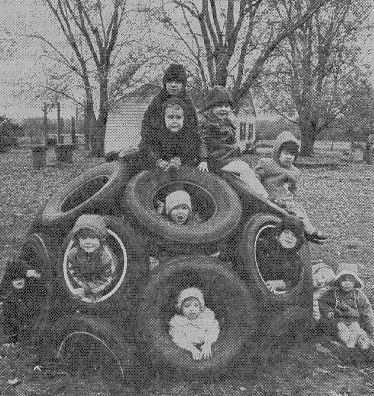 ---
Curt Flowers' Original Revisted: The day care center has moved about half a mile, and the campus is now known as the University of Illinois at Springfield, but the playdome survives. The photo includes Curt and his wife Linda (1997).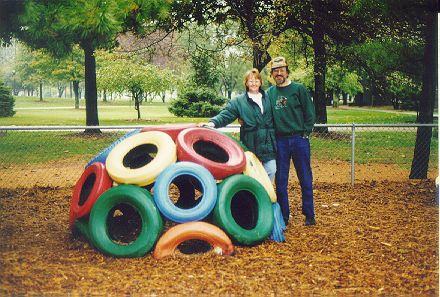 ---
Rob Beezer's First Dome: Located on the grounds of the Arcardia Montessori Learning Center, it was constructed in June 1996.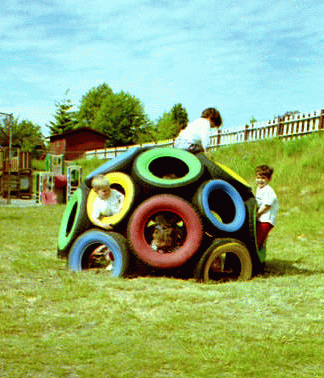 ---
Rob Beezer's Second Dome: At first my wife was reluctant to have a pile of used automobile tires in the yard. So I built one at my son's preschool, ala Curt's dome. That completed, there was a chorus of requests to build one at home. How could I say no? (Constructed in 1996, the photo is from February 1998.)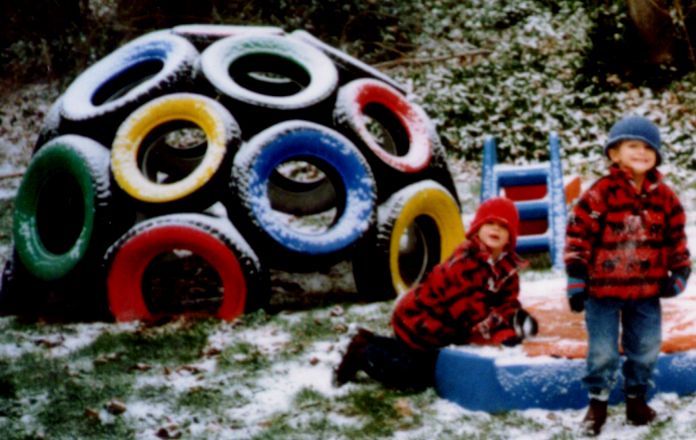 ---
A Partial Tire Dome: Walt Venable and Kirk Van Allyn once had the same idea, and got started on a tire dome. Be sure to check out Walt's Dome Pages.
---
The Geometry Junkyard: You can find playdomes mentioned in the Models of Regular Polyhedra section.
---
From Akira Suziki of the "workshop for architecture and urbanism" comes a book containing information about Curt's idea. See their Shelter of Cards and lots of other ideas and links (including a link back to the Playdome pages). The image below is reproduced (with permission) from INAX BOOKLET (INAX Publishing).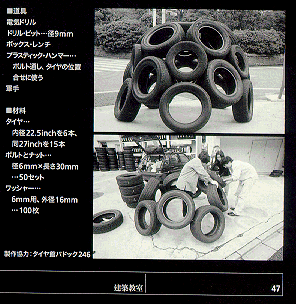 ---
Science News has an article about a Mobius Climber that was built on a playground in Florida. The article contain a brief paragraph about PlayDomes.
---
Hirohito Sasahara's class at Yukuhashi Elementary School, Fukuoka Prefecture, Japan.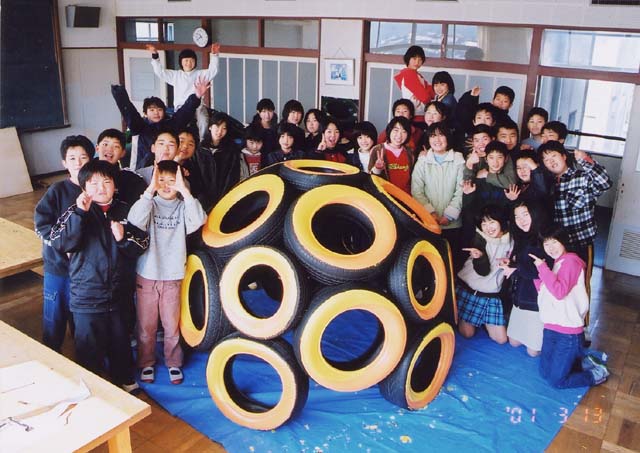 ---
Back to The PlayDome Page
Updated: August 25, 2003.